Ensayos (rehearsals), a photo exhibition on Cuba's National School of Ballet as Havana's Art Gallery.
Submitted by: admin

04 / 29 / 2009
---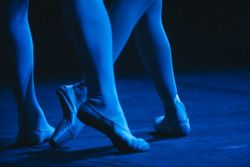 Pictures of rehearsals, like some sort of indispensable "books" or "rituals" for dancers, stressful moments, numerous expressions, dialogues through gestures, part of the history of the pupils currently enrolled at Cuba's National School of Ballet: all that is included in a photo exhibition called Ensayos, displayed at the Tina Modotti Art Gallery, inside Mella Theater, in Havana.
Boris Muriedas, the exhibition's creator, is a young photographer known for his work with professional models. Luckily enough, in his approach to ballet, he hasn't given up on the style and search he inaugurated years ago, within the world of fashion models.
Muriedas thought it appropriate to use black and white's range of tonalities for this exhibition, in an attempt to communicate harshness, hard work, and effort. It doesn't indulge itself in a given aesthetical intention; neither does it aim at portraying the lively colors onstage, by presenting a flawless finished product. Instead, this exhibit prefers to show us the time before going onstage, revealing the many days it takes to build the choreography, to perfect it, the massive chain of efforts, the mise en scène, the trying out steps or movements, the visible accumulation of weariness, the traces- inevitable for artists- of daily work. And amidst the flurry, the passion and devotion of both students and professors.
This exhibition, as stated by its author, is a tribute to both, though professors are not directly seen in the photos, like in life itself; for they are never seen onstage, they are not the ones to conquer the audience's ovations or sing autographs. But each picture is the combined result of dancers, teachers and photographer, the same as every success or setback onstage is a collective product.
This year, the National School of Ballet will host the 16th International Meeting of Ballet Academies and it has chosen Mella Theater for its contests and Galas: an ideal pretext for revealing, through photos, how much effort the classical techniques demand. Apparently simple and ethereal. Demanding practice, discipline, and constant work are Cuban dancers' key to success worldwide, and these principles, inculcated from the school, are abundantly evidenced in 20-picture series. They are not the best pictures taken by Boris during several weeks of rehearsals, for that was just his intention: to prove that no one is perfect, that every piece of work has its flaws and to make it clear that everything shown onstage is, without a doubt, result of much effort.
Ensayos invites us to appreciate some daily-life scenes, inside one of the countries' most prestigious cultural institutions, the one most acknowledged world-wide. This work falls a bit far from Boris Muriedas's usual routine. Every time he attempted to take a closer look to dance, he did it with the intention to put it out of context or demystify it, and he managed to prove, through previous fashion photo exhibitions, that dancers' spectrum is much broader than they can imagine. However, in time Muriedas was seduced by the mystery of creation, by the transformation of adolescents into young professionals, the stars-to-be of our stages in the near future. His new proposition, Ensayos, is a series of bold and unbiased scenes, which rather than presenting a sweetened image of ballet, envisages it from its very root at the academy, like a highly complicated construction process. It was about time that tribute was paid to the Cuban National School of Ballet, not as a finished product but as a piece of work in constant evolution.
Source: Cubanow
---
Related News
---