"Yes I can" Cuban Teaching Method at the Service of UNESCO
Submitted by: admin

04 / 24 / 2009
---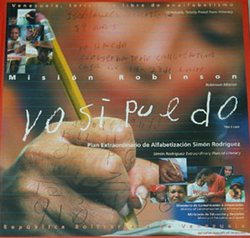 Cuba confirmed the viability of the
Yes I can
teaching method, and put it at the disposal of UNESCO, but also expressed concern about other issues which this organization should address with more resolution.
Ambassador María de los Angeles Florez, chair of Cuba's National Commission for UNESCO, spoke about the accomplishments of the Yes I can method, which has helped 3.5 million people learn to read and write.
In her speech at the 181st Executive Board Meeting of the United Nations Educational, Scientific and Cultural Organization (UNESCO) taking place in this city, Florez pointed out that this plan is based on solidarity principles.
The most recent experience is Bolivia, a country where by December 2008, 99.5 per cent of the total number of illiterates of the country –most of them women– had been taught to read and write in their languages (Quechua, Aymara or Spanish).
Our country, which for over 50 years has endured the effects of a harsh blockade imposed by the first economic and military power of the world, knows the immense value of international solidarity, she said.
The Cuban official also mentioned that universal access is one of the priorities for the Information and Communication sector, there are no prospects of actions aimed at finding a solution to the growing North-South inequalities and asymmetries.
She mentioned that according to statistics, by the end of 2008, developed countries controlled 70 per cent of Internet access, while countries of the South barely reached 22 per cent, a fact that UNESCO should bear in mind.
Languages and multilingualism, an issue that was defined as a priority in the field of culture, has not been dealt with as agreed in the 180th. Executive Board Meeting, she added.
Although education is a priority for UNESCO, progress in this field is insufficient. We can perceive an obvious imbalance. There is no relationship between the number of international meetings the organization holds and the results achieved, she said.
When talking about the draft of the final document for these sessions, she said that it does not takes into account the need to take action against the brain draining of countries from the South, something that interferes with and weakens human resources training programs.
In the case of Cuba, the strengthening of multilateralism shows the way towards international cooperation based on solidarity and respect for diversity, and it could save humanity and its values, said Florez.
Source: Granma
---
Related News
---