The embargo against Cuba will not change: US Larry Summers, economic advisor to Obama
Submitted by: admin

04 / 19 / 2009
---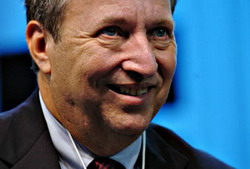 The US economic embargo on Cuba will remain intact despite the two countries willingness to resume ties, says Larry Summers, Obama's economic advisor.

Larry Summers, in an interview with the NBC that was broadcasted on Sunday, said that lifting Cuba sanctions depends on the island's future actions and gestures.

"That's way down the road, and it's going to depend on what Cuba did, Cuba does going forward," Summers said.

Earlier on Thursday, Cuban President Raul Castro had expressed his country's readiness "to discuss everything" with the US "in private and in public" and "wherever they want."

President Barack Obama's administration has recently eased a travel ban on Cuban descent families and has let them to send remittances to their families on the Island.

The US government instituted the embargo on the island three years after Fidel Castro came to power in 1959.

Since then there has been no diplomatic relations between Washington and Havana.

At the Summit of the Americas taken place in Trinidad and Tobago this weekend many regional powers urged the United States to lift its five-decade-long embargo on Cuba.
Source: PressTV
---
Related News
---