The V Summit is coming to its end.
Submitted by: admin

04 / 19 / 2009
---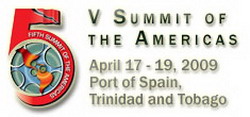 The 5th Summit of the Americas, a meeting of all Hemispheric leaders, minus Cuba, entered its plenary session on Saturday in Trinidad and Tobago, where a lot of controversy is expected regarding its final declaration.
A draft of the Port-of-Spain Declaration has been already vetoed by the country members of the Bolivarian Alternatives for the Americas (ALBA).
The Heads of State went into bilateral discussions in the morning, followed by the summit's first plenary session, during which Venezuelan President Hugo Chavez, Bolivian Evo Morales, Ecuadorian Rafael Correa, Paraguayan Fernando Lugo and Brazilian Luiz Inacio Lula da Silva, among others, made presentations.
High on the agenda is the economic crisis, energy security, climate change, the fight against lawlessness and crime, and Cuba, which was suspended from the Organization of American States (OAS) in 1962.
The vast majority of the countries have called for the return of Cuba into the OAS and an end to the United States' five-decade long embargo on Havana, which was not issues originally part of the agenda.
The First Head of State to call for an end to the US' five-decade long embargo was Argentine President Cristina Fernandez.
Nicaraguan President Daniel Ortega refused to refer to the Summit as a Summit of the Americas, since Cuba is not included in the gathering.
US President Barack Obama dubbed the Port of Spain gathering as "a summit of change," pledging commitment to "renewing and sustaining a broader partnership between the United States and the hemisphere."
Today is the final day of the summit, all 34 leaders will hold a retreat at the Diplomatic Center. That will be followed by the closing ceremony, a signing of the Declaration of Port-of-Spain, and a final press conference at the center.
---
Related News
---