Journeys to learn about Cuba is offering Cuba Education and Green Tours from August 1 to 8, 2009
Submitted by: admin

04 / 19 / 2009
---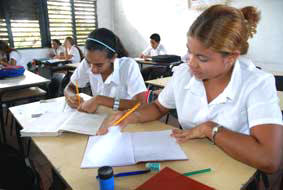 The journeys are for people who want to learn about the island's educational system and its hallmarked eco-alternatives and organic farming achievements.

Cuba Education Tours is offering two extraordinary tours to Cuba from August 1 to 8, 2009. Both are official programs designed by Cuban partners to familiarize friends from abroad with Cuba's advances in social well being and environmental sustainability.

The Teachers Introduction to Cuba Tour is for educators seeking to discover the reasons why Cuban youth rank highest academically in the Americas. Participants will get a firsthand take on Cuba's free education to through university, and the resulting social benefits.
Tour members will meet, dialogue, and network with distinguished pedagogical authorities from K-12 institutions, universities, and unions and ministries of education.

They'll also experience cultural activities including Cuban music and dance lessons and ample nightlife. There will be an engagement with a world-famed urban planner, meet-and-greets with contemporary artists, and an exclusive glimpse into Afrocuban life.

The educators will see many facets of the stunning cosmopolitan capital of Havana, and rustic farm villages in western Pinar del Rio province, and the tropical geography of Vinales Valley.

This tour is a professional development opportunity to witness stellar progress that all caring teachers aspire to, while making new friends in Cuba and amongst tour colleagues. It's a primer on education in Cuba without equal.

Cuba Education Tours' Green Explorers Cuba Tour is arranged by Cuban specialists to acquaint visitors with island accomplishments in the fields of forestry, organic agriculture, climate change, nature conservation and restoration, renewable energy, and sustainable urban development. Six very special rendezvouses take place with Cuban experts in these arenas.

The tour unveils the secrets of green-living Cuban-style. Its for explorers who want to learn about Cuba's incredible ideas and practices enabling its people to live within natural resource limits, at the same time achieving one of the highest levels of human developments anywhere.

Participants will visit museums, architectural and historical sites, United Nations biosphere reserves, and enjoy swimming, horseback riding, birdwatching, hiking and cave reconnoitering. They'll relish the island's best food and entertainment in the five-star comfort of the Hotel Habana Libre, and the rural mountaintop Resort Los Jazmines.
Plus they'll go to many fab venues in western Cuba for hot Latin jazz, music, dance, and more. This tour is for concerned global citizens striving for a livable planet for our children and beyond.
Source: AIM168realstate
---
Related News
---