Commemoration of Good Friday in Cuba's Old Havana
---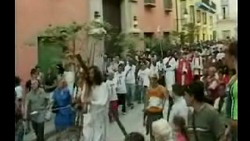 Hundreds of Catholics took part in a ceremony in Cuba's Old Havana to commemorate Good Friday.
The procession began at Havana's Cathedral and on its way through the streets of the old city, ending at the Church of Christ the Traveller, people came out onto their balconies to watch.
The procession was conducted at the church of Christ the Traveller by Cardinal Monsignor Jaime Ortega, head of the Catholic Church in Cuba, with the blessing given by Auxiliary Bishop of Havana, Monsignor Juan de Dios Hernandez.
(WTOL)
---
Related News
---