New Russian Radar is tested at Civil Airport in Camaguey
Submitted by: admin

04 / 11 / 2009
---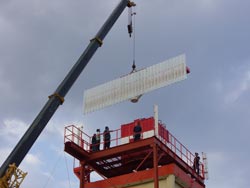 The Ignacio Agramonte International Airport from Camaguey is testing a modern Russian radar, to service civil aviation, in order to improve the quality of service given to planes using the Cuban airways.

The new radar, with a 1,700,000 dollar price tag, is the first of its kind in Cuba, and among the most modern in all Latin America, since it is equipped with state-of-art technology, which includes ADS receptors and automated surveillance controls.

According to the Senior Specialist at the Cuban Airport and Airport Services Enterprise (ECASA), the ADS receives the plane's information straight from the satellite, and helps the control tower to get more reliable data to handle the aircraft.

This way it is possible to better accommodate the passing of the airplanes through the Cuban air corridors, where the flights from to North and South America, added to the landing and take-off of planes at Cuban airports, reach 400 daily operations.

This equipment replaces another similar one from the same Russian producers, already 20 years old. Another radar like this one will be installed in Holguin, Pinar del Rio, Villa Clara, Havana, and Havana city, so they will be all over the Cuban archipelago.

The installation of the radar in Camagüey, because of the wide area it covers, is very important for Cuba, since it has the responsibility of covering the Nuevas, Maya and Giron Alto Cuban airways.
---
Related News
---