Cuban trade is expected to decline significantly this year
Submitted by: admin

04 / 11 / 2009
---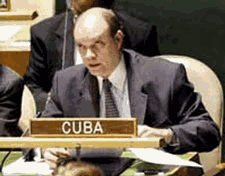 Nickel prices have plummeted worldwide amid rising production and falling demand to around $10,000 per tonne from a high of around $50,000 in 2007. Three hurricanes struck the island starting in late August, causing an estimated $10 billion in damages.

Cuba reported a debt of $17.8 billion and current account balance of payments surplus of $527 million in 2007, the last time official figures were made available.
Cuba continues to run a huge trade deficit and the country's 2008 performance was worse than previously reported, declared on Friday the Foreign Trade Minister Rodrigo Malmierca.

"We are calling upon our companies to radically change their export attitude and culture. During the first trimester 80 percent of foreign trade represented imports, something that should concern all of us," Malmierca was quoted as telling state managers at an award ceremony on Thursday.

Malmierca was named to the post last month as part of a major shake-up of the cabinet which saw eight ministers sacked by President Raul Castro.

The Communist country's foreign trade is expected to decline significantly this year due to lower prices for key imports oil and food and the country's main export nickel. Other key exports such as cigars and lobster are also being hammered by the international economic slowdown, the government said earlier this week.

Financing is an additional problem due to the international crisis and late payments to governments and traders, western business sources said.

"Foreign Trade Minister Rodrigo Malmierca said 2008 trade closed up 30 percent, a figure fundamentally based on a 41 percent increase in imports. Exports were only 92 percent of what they were the previous year," Granma said.

The government had previously said imports increased 43 percent in 2008 and exports 2.1 percent, leaving a deficit of $11.7 billion, a 70 percent increase over 2007.

Cuba's 2008 service exports were $9.2 billion, up from $8.6 billion in 2007, the government reported.

The mounting services income -- officials say more than half comes from leftist ally Venezuela-- had enabled Cuba to more or less balance its external finances in recent years, but in 2008 fell well short of what was needed, local analysts said.

Granma gave no figures for 2008, but official figures for 2007 showed a deficit of $6.9 billion, with exports totaling $4.3 billion and imports $11.2 billon.

Based on Malmierca's statement on Thursday, exports were just under $4 billion last year, and imports $15.8 billion, leaving a trade deficit of $11.8 billion.

The government reports foreign exchange data in the convertible peso which it pegs at US$1.08.

President Raul Castro has also expressed frustration with state company performance.
 Source: Caribbean Net News
---
Related News
---