Lands Granted in Ciego de Ávila, Cuba Already Producing
Submitted by: admin

04 / 10 / 2009
---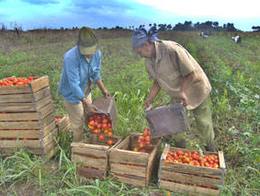 Granting land facilitates the execution of two strategic lines of the national economy: the increase in the production of food and the substitution of imports.
According to the Decree Law No. 259 of July 10 2008, the area granted was determined by the potential of the labour force, the available resources, the types of agricultural production to which they would be allocated, and the productive capacity of the soils.
So far, the initiative has allowed a significant increase in crops such as tomato, cabbage, pumpkin, sweet potato, corn, and other short-cycle vegetables, as well as the development of cattle husbandry and the elimination of overgrowth in lands that remained unproductive.  
Since the land grant process started last September 17, in Ciego de Ávila Province, some 4 000 properties have been established which are designated to the raising of large and small livestock, and miscellaneous crops.
This project of making unproductive areas useful adds to the measures Cuba has adopted to increase food supplies for its population, and it acquires a special importance after the severe impacts that the country's agriculture suffered after hurricanes Gustav, Ike and Paloma, besides the floods caused by the constant rains in the eastern region of the country.
(Invasor.cu)
---
Related News
---