In Cuba: Refurbishment of Cifuentes' Catholic Church
Submitted by: admin

03 / 25 / 2009
---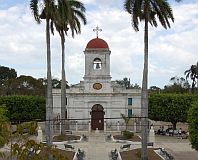 After two decades nearly in ruins, the Santa María Magadalena church was finally restored including the whole building and the bell tower,  but first diagnose of the facility made by technicians foretold it could not be saved, therefore a long dedication made the rescue of the architectural style and its ecclesiastic functionality possible, event that deserved the Villa Clara Restoration Prize 2009, a distinction handed over by the Heritage Center and the Monuments Office at the central Cuban province.
The church, located at some 30 kilometers at the northern side of Santa Clara city, was built in its present place in 1856, date in which the church replaced an ancient temple from 1817 with a door and detail where you can appreciate the construction year, also wood and guano at La Magdalena ranch;  occasion when the first mass was held in an ecclesiastic jurisdiction that included the next localities of Calabazar de Sagua, Encrucijada, Malezas, Santo Domingo and San Diego del Valle.
The constructive works (investment  and implementing project) were taking ahead with the sponsorship of the Santa Clara diocese, they counted with the collaboration of specialists from the Provincial Center of Cultural Heritage, institution that granted prizes and mentions on Buildings' Conservation that keep the architectural specificity of fronts, portals and inner sides of facilities or outdoor spaces.  
The bell tower was recovered thanks to the refurbishment works
The narrator and historical investigator Luis Pérez Pérez, said to Vanguardia daily that old and new characteristics of the Santa María Magdalena church, embedded across Paseo Martí, at the highway that goes from Santa Clara to Sagua la Grande, are among those outstanding:  a facade preceded with four royal palms- Cuba's national tree- planted in the second half of the Twenty Century- also six lampposts, a Cifuentes' cultural symbol  and several benches made with non- ferrous metals that replaced the old ones made of green granite with advertisements from local shops.
The church's front has three busts honoring the patriots: Emilio Núñez Hernández –sculpted by the Italian Luiggi Piedrasanta--, José Martí  and Antonio Maceo, the last two made by Carlos Era, from the central province.
The Santa María Magdalena church forms part  of the symbols of Cifuentes' shield, a place greatly linked to cattle raising and minor cultivation according to one order issued by the Villa Clara city hall granted in 1696, though its foundation goes back to 1817, moment characterized by an impetuous sugar development and implementation of iron roads that linked Cifuentes with the ports of Isabela de Sagua and Caibarién.
Now, the so called oasis is a municipality from Villa Clara with territorial boundaries with other six out of the thirteen forming part of the central Cuban province and has more than 33 thousand 294 inhabitants located in ten Popular Councils.   
(Vanguardia)
---
Related News
---