Production of Torula Yeast for Pig Feed Increased in Cuba
Submitted by: admin

03 / 20 / 2009
---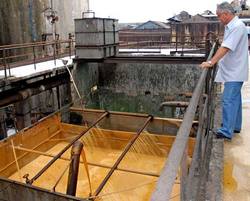 The workers of the factory Alfredo R. Pérez, of the municipality of Ciro Redondo, manufacture 12 metric tons of the food per day on average, which surpasses the  8,6 planned for the same period, the AIN Rubén Reyes Granados, the director reported.     
He specified that the commitment is to produce 2 000 tons of the nutrient before the closing of the month of October.  With that amount it will be possible to fatten about 5000 pigs and in this way, to decrease the purchase of these nutrients at high prices in the external market.     
The designers of the plant installed a burner last year and a petroleum heater for the oven to be able to dry the torula in cream, and to convert and store it, to use it at the right time.   
In this way, they can achieve a dehydrated nutrient that has almost 50 percent protein, and it is similar to the best in their class in the world.  This is included in the national strategy to recapture the productive levels affected by the hurricanes.     
After five inactive years, the community put the industry in 2008 into operation and it produced 500 tons of yeast starting from the final honey of the cane of sugar.       
The Alfredo R. Pérez plant was inaugurated in the decade of 1960, by the initiative of Commander Ernesto Che Guevara to take advantage of those by products derived from the nearby Ciro Redondo Sugar Mill.
(Invasor.cu)
---
Related News
---