In Camagüey, Cuba: Wemilere a popular tourist option
Submitted by: admin

03 / 18 / 2009
---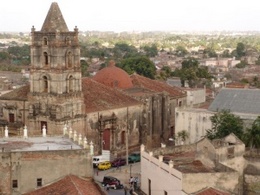 Wemilere, is one of the most comprehensive options for the tourist at the Santa Lucia beach and has become a preferred show for the vacationers at the mentioned beach, located to the north of the Camagüey province in central Cuba . Each week end, an excursion takes the visitors to the heart of the Camaguey city, an area declared by UNESCO a Patrimony of Mankind, full with old streets, colonial buildings and squares.
Songs, dances and traditional music of the repertoire and the Afro Cuban religious syncretism, resound in the old paving stones and buildings of the great Square, where colours, movements and the sound of the drums and congas, captivate the spectators in a show that includes rites and santeria music in Cuba .
Then visitors can enjoy a meal at La Campana de Toledo, a singular house with ceilings and floors made from clay, walls of adobe and big yards with trees, where, off course, people can see the symbolic ceramic large earthenware jar, used in the houses to keep the water and became one of the unquestionable allegory of the city of Camagüey.
The folk Ballet reaches the inner of the building to make the dinner more enjoyable and not few people join them in the dances.
Several dishes of the traditional Cuban kitchen, specially the sheep in tomato and pepper, according to the Afro Cuban religious tradition, are offered to the guests, who end their meal with melodies and guitar trios.
Therefore Wemilere is a tourist option that day after day is increasing its followers.
(Cubarte)
---
Related News
---