Discussion on music and children in Cubadisco 2009
Submitted by: admin

03 / 18 / 2009
---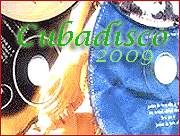 The forum will discus the sound environment of the children, their musical tastes and preferences, as well as the need to conceive pieces specially dedicated to them.
Other themes of the theoretical event reserve spaces for Puerto Rican music (this event will be dedicated to Puerto Rican authors) as well as the development of the research and industry programs of Cuban music.
It is not a casual event that music and children constitute essential themes in the Cubadisco 2009 Festival since melodies in general, whatever their point of origin, are part of the sound universe that surrounds men since their birth.
According to Paula Sánchez, Music Adviser for the Cuban Ministry for Education, music goes beyond everyday life of human beings, from the most important moments to the most insignificant moments of their life.
She highlighted the way in which the development of the new technologies of communication and information technology has facilitated the interactive process of the citizen with the music of the world.
This artistic manifestation –she pointed out- constitutes the achievement of emotionally satisfactory and positive states and to the development of sensibility, which has an effect in the interpersonal relationships, in the behaviours and in the correct use and enjoyment of free time.
Currently, it is unquestionably the effect achieved by music in the education of boys and girls. When it is part of the spiritual wealth of people, people achieve a better existence and a transforming and highly creative conception of the world.
Sánchez highlighted that reserving a special place for music and children in Cubadisco 2009 is a reflection of maturity of Cuban culture, art and education.
In the most important event of music industry of the country children will be privileged and the program includes concerts, recitals and a varied music production in different locations destined to children.
(Cubarte)
---
Related News
---