Farms Granted in Usufruct Already Yielding in Ciego de Ávila, Cuba
Submitted by: admin

03 / 14 / 2009
---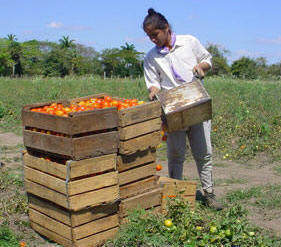 The main crops in so little time are tomato, cabbage, bean, corn, sweet potato, pumpkin, among other vegetables, although most of the granted lands required of cleaning and conditioning works, as expressed Agriculture specialists.
Some 4 000 new properties, to be granted in the main to individuals, have so far been approved for miscellaneous crops, as well livestock, which has also facilitated the development of cattle, pigs, goats and sheep.
In execution of the 259 Decree Law, the fallow lands granted to over 2 700 beneficiaries will help Ciego de Ávila produce some 280 000 tons of roots and vegetables this year, an amount higher than that attained last year.
Besides producing food for the population and improving the quality of life of the new owners and their family, the award of the unproductive plots contributes to control sicklebush, an invasive plant that had spoiled some 160 000 hectares in the province of Ciego de Ávila last year.  
Leaders of the National Association of Small Farmers have made reference to the interest shown by the new peasants, who have increased number of members of the credit and service cooperatives. Presently there are over 15 000 in the territory.
(Invasor.cu)
---
Related News
---