In Camagüey, Cuba: University computer science
Submitted by: admin

03 / 04 / 2009
---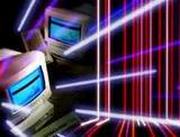 The Intranet of the central venue increases the availability of documents in electronic format, including basic and complementary texts, video-conferences, supporting materials and the results of studies conducted by the staff.  
Virtual libraries are being developed in the municipalities where universalization programs are underway. They have been reinforced with Master theses and the professors' scientific documents. Conditions are being created to save the diploma works of those who complete studies in the university sub-headquarters.  
The University of Camagüey is implementing a strategy to migrate toward free software, while the Intranet consolidates and the quality of its contribution to teaching, to research and to post-grade upgrading increases.  They are working to implement a platform of network administration and the structure of computer security.    
The whole university community of the territory has local and remote access to the fundamental academic resources for educational activity and scientific output, developed by the professionals of the higher education system.
(RR)
---
Related News
---