New Cuban Antivirus Software Released
Submitted by: admin

02 / 25 / 2009
---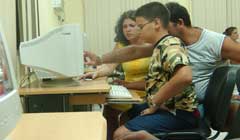 The director of Segurmática, José Bidot, told JR that the software can be used on any Windows system and that the company sells a version for Unix with an open code system called SavUnix.
The Segurmática Antivirus software with updates is available for 50 Cuban pesos (approximately US$ 2.50) a year and can be updated at www.segurmatica.cu.
Over the last couple of decades, Cuban computer technicians have detected more than 3,760 harmful computer codes, which grow in quantity and complexity each year. For example, in 2006 technicians detected 267 virus, 301 in 2007, and 1,840 in 2008. In the first month and a half of 2009, 139 viruses have been detected, including the W32 Kido or Conficker. This harmful program spreads through the 445 port (open by default in Windows 2000 and XP) and USB ports.
This and other themes were discussed at the Ninth Ibero-American Conference on Informatics Technology Safety, which recently concluded at the Havana Convention center.
(Juventud Rebelde)
---
Related News
---