Radio Network Deliver Provincial Prizes in Las Tunas, Cuba
Submitted by: admin

02 / 20 / 2009
---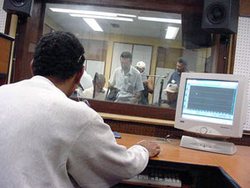 This professional received the Big Informative Prize with her work Lo que el viento no se llevó, and the laurels in the genres of Chronicle and Journalistic Realization, while the other Big Prize in the varied programming corresponded to the producer
Alexei Cabrera Corona with his Carrusel de Vera, program that also obtained the laurel in best Script, to its writer Yurima Trujillo, both of the Radio Maboas, of the southern municipality of Amancio.
In the category Information Delfines en la bahía by the journalist Marte Gonzalez and Ramon Guzman Leyva, of Radio Libertad, was rewarded, while in Documentary, the laurel went to Huracanes, by Luis Manuel Quesada Kindelan, of Radio
Victoria.
The Prize of Report was given to Liliana Gomez Ramos, of Radio Chaparra for her work Aguas pasadas, as long as in the section of Informative Programs Tiempo Puntual, by Raul Marte Gonzalez, of Radio Libertad, obtained the prize, the
producer Marte Gonzalez, also receive the laurel 80 anniversary of the Che for his work A Un hombre de pensamiento.
In the category of Propaganda the laurel of short messages was given Jose Luis Perez Parra, of Radio Libertad for his spot Recuperación, and in jingle to Nacimiento del Cucalambé, by Danial Santos Laguna, de Radio Victoria who also obtained
the prize in Musical Programs with its space La gota de Rocío.
In Infantile Musical Program the recognition with the maximum reward corresponded to La ronda de la alegría, by Juan Miguel Desdin Santiesteban, of Radio Manati, as long as in Dramatized Unitary was given to Carrusel de Verano, by Alexei
Cabrera Corona, of Radio Maboas.
In Dramatized Humorous the prize went to Y dale otra vez, by Abel Molina Montes de Oca, of Radio Victoria, and this same producer also obtained the laurel in Dramatized Historic Unitary with his work Caminos.
During the premiaciones the announcer Lazaro Manuel Delgado received the Prize in informative programs, while in the category of not dramatized programs the laurels went to Miriam Vega, in Consultantship, Daniel Santos Laguna, in Script,
and Alexei Cabrera Corona, in direction.
Special moment in the delivery of the laurels constituted the Prizes For the lifelong work to Manuel Augusto Menendez Perez, of Radio Maboas, that of announcer Rafael Urbino Santoya to Jacinto Remon Alarcon, of Radio Maboas, and that of
sound Raul Ugarte to Ismerio Fernando Rodriguez Avalos, of Radio Victoria.
(Tiempo21.cu)
---
Related News
---