In Cuba the poor cinema returns
Submitted by: admin

02 / 17 / 2009
---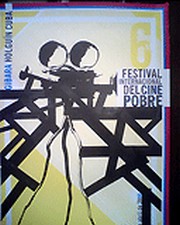 In the Holguin´s Culture Communications Center it was carried out the official launch of the next version of this alternative film meeting, which will be adjusted this time to the conditions and the present reality of a city severely affected by hurricane Ike and where for first time, its creator, filmmaker Humberto Solas who died in September last year, will not be physically present.
However, "we will be back in Villa Blanca with a nice festival that people from Gibara will enjoy and where films of different parts of the world will be presented, made according to the budgets of the Festival, to start again with the participation of filmmakers who still believe in this revolutionary movement that combines not only cinema, but musicians and plastic artists," said Benvenuto.
For his part Jorge Perugorría highlighted that "we are going to give continuity to Humberto´s work, we will continue this effort to promote such an exceptional event."
Fresa y Chocolate is the greatest promoter of the project Art for Cuba which auctions works of plastic creators in order to raise funds for rebuilding cultural institutions in Holguin. This project has managed to raise 21,600 dollars.
Also present at the press conference, actress Luisa Maria Jimenez confessed her love for this event which she described as the most charismatic she has ever known. "After Humberto Solas´ death I had my doubts, but I notice that this idea will not die because Humberto and his spirit are here. I will do my best for this meeting. In the near future, it may become the more emblematic Festival of Cuba."
Meanwhile, Rafael Lahera highlighted the broad support every meeting has in the coastal city considered National Monument: "It´s incredible how at the Festival we are friends of all the people and walked by the streets as if we were one of them."
In the presence of authorities of the Cuba Communist Party and the Government of Holguin, the Cuban Institute of Cinematographic Arts and Industry, the Culture Provincial Directorate as well as national and local media, Sergio Benvenuto said that "the 7th Edition of the Poor Cinema Festival of Humberto Solas will bring a high programming quality, we have all the necessary funds and we will create again a meeting that can serve as a space of events confluence. The festival will be carried out even in tents."
And to dispel doubts, CubaSí confirmed: "We have never thought in moving the festival from its original place, what happens in Cienfuegos is very different. It is a meeting son of Gibara, is a very successful project but completely different. It began as a support strategy and became a theme exhibition. During the Film Festival, we will announce that the Poor Cinema will continue to grow, but this time out of Cuba."
(www.cubasi.cu)
---
Related News
---