The Republic of Cuba and its geographic characteristics
Submitted by: admin

01 / 29 / 2009
---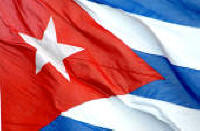 Its total surface is 110 922 km2, located at the entrance of the Gulf of Mexico in the Caribbean Sea.
The country limits to the Florida Peninsula at the North side  (The United States of America) with 180 kms, to Jamaica at the South with 140 kms, to Haiti at the Eastern side with 77 kms and to the Yucatan Peninsula (Mexico) the Western side with 210 kms.
Most part of the territory is formed by a fertile plain; three mountain ranges are outstanding: Sierra de los Organos in the Western region,  Sierra del Escambray at the central side of the country and Sierra Maestra in the Eastern side; including the Turquino Peak with 1 974 meters height above the sea level and it is in fact the highest altitude in the country. 
Some mountain ranges with a few heights are found across diverse areas of the Cuban territory. Most relevant are: Sierra del Rosario in the Western region and Sierra de Trinidad in the central region.
Cuba shows a rich and prodigious nature and  it is the owner of a great variety of plants and animals and more than 280 beaches, virgin islands, caves, mountains, forests, grassland and swamps.
Most important rivers: Cauto, Toa, Sagua la Grande, Zaza and Caonao
Weather: moderate subtropical, prevailing maritime tropical conditions. The Eastern region enjoys a warmer climate than the Western side. Annual Average temperature is 25 degrees in summer and 22 degrees in winter. There are two very well defined seasons: the dry-one from November to April and the rainy from May to October.
Capital: Havana
National flower: White Ginger, this flower was used during the independence wars to symbolize the independent soul of Cubans.
National bird: Tocororo ( Priotelus temnurus)  Its feathers have the colors of the Cuban flag
National tree: Royal palm
(Cubaheadlines)
---
Related News
---