Cuba among the twenty nations committed to underwater heritage
Submitted by: admin

01 / 29 / 2009
---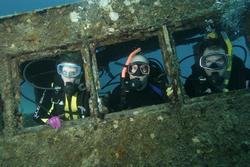 The Convention stipulated the obligation to protect the underwater heritage, its in situ priority preservation, the denial to commercial exploitation of the findings, the cooperation among the states aiming to preserve this valuable heritage and the public promotion of its importance and the making of programs for the formation of professionals in underwater archeology.
Together with Cuba that made formal its support to the treaty last May, the other countries that had confirmed the document to the end of 2008 were: Barbados, Bulgaria, Cambodia, Croatia, Ecuador, Slovenia, Spain, Libya, Lebanon, Lithuania, Mexico, Montenegro, Nigeria, Portugal, Saint Lucia, Panama, Paraguay, Rumania and Ukraine.
With the start of the application of this instrument, Koichiro Matsuura, general director of the UNESCO, warned that "from now onwards, the historical memory represented by the cultural underwater heritage will be able to enjoy a legal protection, which will bring to an end the ever growing illegal smuggling, fed by the sea plunders."
Among the actions undertaken by Cuba there is, made by the Office of the Historian of the City of Havana, the making of a hierarchy of the theme in the new design adopted since the mid-2008 by the Castillo de la Real Fuerza Museum.
Another program that has been undertaken implies the use of the remains of the fleet by Admiral Cervera, sunk in 1898 in front of the entrance of the Santiago de Cuba bay. Most of the remains of the fleet is to be found along the first few kilometers of the west coast to the La Mula river, close to Ocujal. In order to preserve it a plan has been outlined in which everyone has to intervene and take action: from the members of the community close to the sites of the sinking to the maritime authorities.
(Cubarte)
---
Related News
---