Cubarte: three times present at the Informática 2009
Submitted by: admin

01 / 29 / 2009
---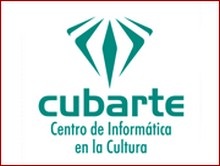 The system of Recovery of the Information for the Public Libraries, awarded in the competition Project Informatica 2009, will by in the stand Cuba, together with another 22 initiatives that will guarantee Cubarte to insert in the main pavilion of the fair.
At the same time, Cubarte will show its work from the infiormation of culture, a stand it is organizing and where will be presented audio visual plates produced by several institutions, among them Cubarte.
Also, the IV International Congress of Technologies, Multimedia Contents and Virtual Reality, that will take place during the convention, will include an intervention of Cubarte, through its director Rafael de la Osa.
The Cubarte awarded Project, titled Sistema de recuperación de información para las bibliotecas públicas en el entorno virtual de la cultura cubana, (System of recovery of the information for the public libraries I the virtual environment) allows to recover the storage date in the information repositories of culture under the application of an architecture oriented to services.
It will widen the information possibilities offered all over the network of libraries in the country, including the municipalities. All of them were given surf rooms with the adequate technological equipment. This service is expected to be extensive to the Houses of Culture.
One of the ways for the Cuban public libraries to enrich its information services is the integrated access to the digital resources Cubarte, belonging to the Ministry of Culture, support in this Project.
Due to the wide volume of date they have, the more used network of information by the Cuban people are the public libraries. Because of the economic situation of the country, it is practically impossible to buy the system that integrates all the services of information. The solutions oriented to services, using free software, minimise the cost of the integration of the information systems.
The Project is in the testing stage and it is expected to be implemented this year along the network of Cuban public libraries.
(Cubarte)
---
Related News
---