In Cuba, Pinar del Río: XXVIII edition of the Week of the Mantua culture
Submitted by: admin

01 / 28 / 2009
---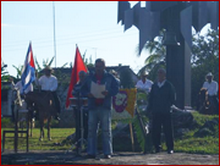 A floral offering in the name of the people of Mantua to the General Antonio Maceo y Grajales was delivered to the monument of the Titan of Bronze (as the general was known), by Omaida Diaz Travieso, First Secretary of the Cuban Communist Party in the municipality and by Pedro Cosme, Director of the Museum of Regla, who was born in Mantua. The notes of the National Hymn and of the Hymn of Mantua was heard and was ratified the compromise of the people of Mantua to defend the achieved conquests.
An emotional cultural activity crowned this tribute to our brave Mambi troops. During the ceremony was heard the poem Mangos de Roque, written by Hector Montano, in the voice of Santiago Caceres Garcia. Pioneers and art instructors and members of the Jose Marti Brigade joined this celebration with the presentation of the most genuine of the Cuban culture. The poem Tengo, written by Nicolas Guillen, the texts of the book Edad de Oro, written by Jose Marti, and set with music and a choir of hundred of voices singing Cuba que Linda es Cuba, was also part of the activity.
At night, the seat of the municipality library Rafael Morales y Gonzles received a number of artists, poetry readers and musicians, who, among many other proposals, offered the staging of the work Leonela, making even more enjoyable this first day of the Mantua culture. This memorable evening gathered together the team of Ecos de Mantua, a group of young people who have put before them the goal of preserve, currently in digital format, a newspaper founded by León Brunet y Ramírez in 1946, in whch it is reflected the social work of this land of western Cuba. Lazarito, José, Manolito, Alipio, Enrique, Mario, Roldan, Antonio, Marianela, Pitaluga, Darien, Yariel and Juan are making their efforst day after day to transmit tot he new generations the values and the identity of the people from that area.
The date of January 23rd was held at the Museum of the area to recall the banquet offered in honour to Maceo by the town council mayor. There was the symbolic signature of the Capitulation Act and at 9pm was held the dance that took place at the Spanish Casino in tribute to the Titan of Bronze.
(Cubarte)
---
Related News
---