Cuban dancer and choreographer Yolena Alonso, is celebrating this year its first decade of fruitful work.
Submitted by: admin

01 / 26 / 2009
---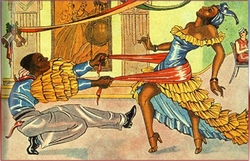 More than an international comment in famous communication media as the one that appeared in the weekly magazine Berliner Woche, from Germany, or in the Diariodenavarra.es, from Spain, as well as in other ones from China and America, crown the opinions of excellence that characterize that company. It is even compared to the best of the musical shows that appear in Broadway, but with a label of its own, a mixture of contemporary and folk styles, with a modern staging and a touch of imagination…
Made up by graduates from the art schools from our country, Yoldance carries creativity and maturity inside and it owes much in its body and artistic language to its director, choreographer, professor and dancer Yolena Alonso, who is the heir to a rich family tradition began by her grandfather, the singer Pacho Alonso and which is carried on today by her father, who is also a musician and an orchestra director, Pachito, together with his sons and Yolena's brothers, Cristhian and Rey Alonso, members of Pachito Alonso y sus Kini Kini. She knows she is in debt to all of our musical and dance history, so she then flies and dances.
With Yoldance she decided to offer that legacy to others, to promote the contact of dance with the widest sectors, to boost dance as an important part of culture that contributes to the human being. What a better way of doing it than leaving Cuba's stamp in the stages from all over the world! That is what she has done and that is what she is aiming in 2009.
La Habanera in 2001; Mambo Club in 2003; Sugar Island in 2004; Viva Cuba in 2005 (whose premiere was in the National Cuban Theater) and Havana Buena Vista Show in 2008, make up the current repertoire of this company that combines different styles and genres, where they build stories of life and love, of the way in which Cubans live, of their roots and dreams.
And protecting so much spirituality and Cuban legend, the music by Pachito Alonso y sus Kini Kini, yet another high level musical story, make Yoldance a wonder, a huge party. Every show has the original music from this great band: authentic, original.
On the stage a company of artists with much light and talent; a family, a true Cuban family. That is Yoldance.
(www.elhabanero.cubaweb.cu)
---
Related News
---