Cuba, meeting point of Latin American pedagogical experiences
Submitted by: admin

01 / 20 / 2009
---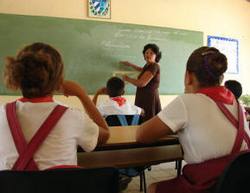 This bienniale is increasing its prestige among the Latin American teachers, since it allows the exchange and update about the new pedagogical experiences in the most diverse learning fields.
Besides, the mentioned congress is one of the few spaces created for the exchange among teachers from different countries, culture and projections.
Teachers, university professors, academicians, group leaders and students will gather together form the 26th until the 30th of January at the Havana Convention Palace.
Justo Chavez, director of the Central Institute of Pedagogical Sciences considered that the feedback favoured by these events make more effective educational policies.
These events started in 1986 and since 1993 have biennial character. They have rescued also the scientific character of the education, something that was lost with the neo liberalism.
Chavez hopes Pedagogía 2009 helps to create a unified philosophy about thsi matter, with a theoretical course not yet defined.
"The Latin American pedagogy needs to find it's way again, since only education places the man at the requirements of his time", indicated.
Parallel with the congress will be held meetings of teachers' trade unions, university rectors, and foreign students graduated in Cuba.
Many visitors will verify here the Cuban experiences in education, whose achievements in half a century are considered an international paradigm.
At the same time Cuban teachers will impart curses about topics of great interest for the improvements of those who have the responsibility of teaching.
According to the call made by the Ministry of Education, this scientific meeting tries to unify actions in order to fulfil the goals agreed at the regional ministers' conferences in 2002 and 2007.
Nevertheless the greater scientific and technological advances, the social inequalities, the illiteracy and the difficult access to a quality education without any exclusion still exists.
Such a contemporary paradox is a burden to the Latin American and Caribbean development and demands new approaches and human strategies with integration policies indicates the document.
Chavez, relieve pedagogy is recovering in Latin America the scientific character it lost after applying neo liberal policies.
"The contradictions stimulate the advance", indicates the teacher, who indicated that Cuba is an example of compromise with the education in function of the Latin American integration.
For example, he said, Venezuela and Bolivia eliminated the illiteracy with the Cuban method "Yo, sí puedo", which taught how read and writes about three million 600 people in Latin America only.
(PL)
---
Related News
---