Cuban Rum Museum receives a million visitors
Submitted by: admin

01 / 19 / 2009
---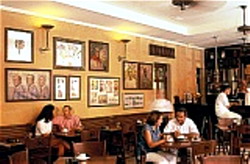 Official sources reported, the Cuban Havana Club Rum Museum is one of the main tourist attractions in Havana, since it has already welcomed one million visitors from the whole world throughout its nine years.

Commercial Manager Martha Hernández said enchantments gathered in Old Havana, include this museum dedicated to the explanation of methods on how to prepare rum and its history, besides other recreational offers found here.

The celebration held in this facility, located at Avenida del Puerto and Sol street in Old Havana was shared with a Canadian and a Cuban woman, the reporter went on saying.

Even on Tuesday 13, January 2009, day regarded as a date for bad luck by popular beliefs, there were visitors coming in and right at 11.30 hours statistics marked the one million visitors.

Then the facility board decided to honor the Canadian Cedric Tremblay with his wife and the Cuban Miriam Martínez and her friend Ivón Ortega as well.

Tremblay from Quebec, was expecting to visit Cuba since three years ago and during his second day of stay on the island, he decided to tour the Museum of Rum.

The facility was inaugurated on March 31, 2000 and since this date up to January 14, it reached the figure aforementioned.

Among its main visitors, and besides the Cubans, the facility has welcomed Canadians, French, Germans, Italians, Spanish, British and Portuguese tourists.

In spite of all this preference, Hernández outlines there is a growing presence of Norwegians, Panamanians, Czechs, Greeks, Polish and Russians. The average of visitors in a day is 500 persons.

Hernández referred Havana Club, the most emblematic Cuban rum label sold three million boxes in 2008 worldwide, each box contains 12 bottles of 700 milliliters, a figure never reached before.

This museum is located in a colonial mansion from the Eighteen Century, it belonged to Conde de La Mortera until 1959; after the triumph of the Cuban Revolution it was used by a ship line, later by the Ministry of Culture; it was also the site for  Casa del Joven Creador (the House for the Young Creator) and lastly the present Rum Museum.
Translated by Cubaheadlines.
---
Related News
---