In Pinar del Río, Cuba: Geroclubs, an option for the elderly
Submitted by: admin

01 / 09 / 2009
---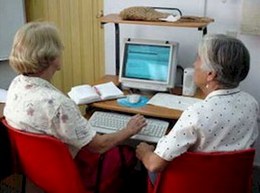 Mariela Padilla, computer technician of the club, highlighted the motivation of all the grandpas and grandmas related to the project, who improve themselves in different programs of the specialty.
In accordance to the specialist the project provides progress to the life efficiency of the elderly, one of the main missions of the computer clubs created 20 years ago in order to train the society in the use of technology.
She noted the links between the Geroclub and the University for the Elderly Program, as part of the installation service in the tobacco growing locality, land of Alejandro Robaina, best tobacco grower of the world.
The multiple tens of people that have joined the idea carry out several activities during the week along with the instructors: learning to use computer programs, paper discussions, gatherings and film screenings.
Officials of the Community Computer Clubs of the westernmost province of the country agreed on the favourable impact of the idea, put in practice two years ago with the elderly, since they feel part of a new and dynamic science.
All the Computer Clubs in provinces, municipalities and distant communities of the nation count on a website with a database available for the elderly to register in order to share experiences online through chats and other sources all over the island.
(Guerrillero.co.cu)
---
Related News
---