De la Paz and Almeida Lead Chess Championship in Las Tunas, Cuba
Submitted by: admin

01 / 09 / 2009
---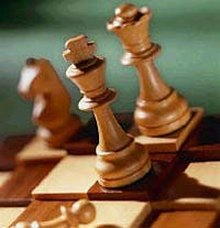 De la Paz got the victory in the second round before the Intenational Master (IM) Maikel Gongora, of Las Tunas, while Almeida also won with black pieces before the GM of Guantanamo, Juan Borges.
In other results the FIDE Master (FM) of Las Tunas, Humberto Blanco, achieved his first victory in the tournament when defeating with black to the IM of Holguin, Isam Ortiz; as long as the other representative of Las Tunas, the IM Humberto Pecorelli, got the point in front of the FM Carlos Castellano, of Matanzas.
On the other hand, the GM Yury Gonzalez defeated the FM Leonel Figueredo. Alejandro Valdes played bettter than the IM Aramis Alvarez while the FM Carlos Mena beat the IM Camilo Gomez and Pedro Jimenez defeated Leandro Guerra.
The other eight matches concluded in ties, included those of the FM Pedro Morales in front of the GM of Holguin Walter Arencibia who has not begun well in the tournament.
Similar situation also presents the GM of Holguin Luis Manuel Perez, dropped behind in the general standing, after dividing the point against the FM Carlos Hevia.
Other players in bad shape are the GM Fidel Corrales, fourth in the national ranking and the former silver national medalist, the IM Lelys Martinez, both favorite to obtain one of the five tickets in this first phase to the decisive stage.
The third round to be played today will be more enjoyable with the games of Omar Almeida in front of Frank de la Peace, Yury Gonzalez-Rodney Perez, Lelys Martinez-Humberto Blanco, Alejandro Valdes-Reinaldo Vera, Roberto Garcia-Fidel Corrales, Walter Arencibia-Jose A. Guerra, Pedro Jimenez-Luis Manuel Perez, Sandro Pozo-Humberto Pecorelli, Yasel Borges-Juan Borges, Maikel Gongora-Pedro Morales, Carlos Mena-Yusnel Bacallao, Carlos Hevia-Leonel Figueredo, Yasser Quesada-Isam Ortiz, Alejandro Gonzalez-Aramis Alvarez, Camilo Gomez-Luis L. Aguero and Carlos Castellano-Leandro Guerra.
(Tiempo21.cu)
---
Related News
---