Cuban Youth to Remember Caravan of the Victorious by the Leader of the Cuban Revolution
Submitted by: admin

12 / 30 / 2008
---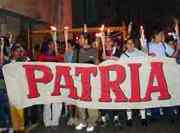 About 50 convoy members from each province will join the liberation journey of the members of the Rebel Army from Santiago de Cuba up to Havana after defeating Fulgencio Batista dictatorship.
Representatives from student, youth, teachers, doctors, artists, sportsmen, scientists, internationalists and outstanding farmers will participate.
Members of the Association of Cuban revolution Combatants, officers and soldiers from the Revolutionary Armed Forces and the Interior Ministry will also join the convoy.
A note from Granma newspaper emphasized that each province will chose the members of the troop including personalities, working hero with an outstanding history.
The march will finish with a huge demonstration in the then Columbia Military Camp, Liberty School City today, beside visits to historical places an veterans and the Revolution Martyrs' families.
The Liberty Caravan, taking place in commemoration of the 50 anniversary of the revolution, will leave Santiago de Cuba on January 2 and is expected to arrive in Ciudad de Libertad on January 8.
The Caravan will be in Pinar del Rio later on the 17 on occasion of the anniversary of Fidel Castro's visit to that province in 1959.
(PL)
---
Related News
---