Santiago de Cuba´s City Hall Repairs Concluded
Submitted by: admin

12 / 30 / 2008
---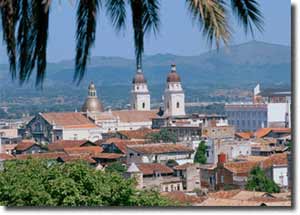 Omar Lopez, director of the City Conservator's Office, told Granma that the work was carried out under the supervision of specialists that made sure the repairs were in line with the urban context of historic downtown Santiago.
Extra care was given to the restoration of the main balcony where Fidel Castro was acclaimed by a jubilant multitude nearly 50 years ago and where he announced that the program spelled out at the time of the attack on the Moncada Garrison in 1953 would be brought to fruition.
Numerous beatification and restoration works took place this last year in downtown Santiago, where at sunset on January 1, 2009, Cubans will commemorate one of the most important events of the 20th century.
The newly renovated Parque Cespedes, scene of a long list of important occurrences, will host the national celebration for the 50th anniversary of the Cuban Revolution.
In 1983, the Commander-in-chief bestowed the title of Hero of the Republic of Cuba on Santiago and gave it the Antonio Maceo Grajales Order. Today, the historic building functions as the headquarters of the municipal peoples' power government.
New lamps, green areas and the renovation of the fountain, electrical installations and part of the pavement are among the actions underway.
Other public buildings in the surrounding area also receiving restoration work include the Cultural Center, the Credit and Commerce Bank.
(RHC)
---
Related News
---