Cuban Parliament Approves State Budget for 2009
Submitted by: admin

12 / 28 / 2008
---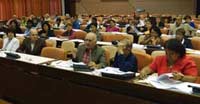 Saturday's parliamentary session, the last one of 2008, was attended by Cuban President Raul Castro.
Addressing Cuban legislators, the island's Minister of Planning and the Economy, Jose Luis Rodríguez pointed to the 4.3% growth of the country's Gross Domestic Product (GDP)in 2008, which he described as 'significant' amidst the current world economic crisis.
"2008 has been one of the most difficult years within the Special Period," said Rodriguez and recalled the negative impact on the Cuban economy of the further tightened U.S. blockade, the current world crisis and economic losses to the tune of some $10 billion, resulting from the devastating effects of three strong hurricanes that whipped Cuba between September and November.
Referring to some of the results attained in 2008, Rodríguez pointed to 2.6% growth in productivity, 6.6% in investment, 3.3% in construction, 7.4% in transportation and 9% in the communications sector. Cuban exports of goods and services grew 7.2%.
The Cuban official pointed to the need to focus on domestic produce in order to reduce the need for imports.
The Cuban Minister of Planning and the Economy called to increase productivity and efficiency at work and stressed also the need for increased resources and energy saving and praised achievements thus far of the ongoing Energy Revolution on the island.
Regarding tourism, the sector grew two percent in 2008 despite the world financial crisis. Cuba welcomed over two million tourists for the fifth consecutive time this year and will close 2008 with two million 350,000 visitors.
Osvaldo Martínez, President of the Parliament's Commission on Economic Affairs and Georgina Barreiros, Minister of Finance and Prices, stressed that in order to reduce the budget deficit it is imperative to increase State revenues and reduce expenditure.
The island's authorities have predicted a 6% GDP growth in 2009.
(PL)
---
Related News
---