Cuba Analyzes Further Energy Saving Goals
Submitted by: admin

12 / 26 / 2008
---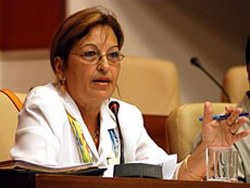 In statements to the press at the legislature's Energy and Environment Committee meeting Tuesday the minister said that the Energy Revolution doesn't end with the changing of all energy inefficient refrigerators and air conditioners in the home sector and stressed the need for an incentive system for workers to save on electricity, fuel and water.
Garcia said to be optimistic about the perspectives for the gradual use of renewable energy sources, mainly sugarcane and forestry biomass as well as wind, hydraulic and solar energy. She noted studies are also underway to assess the possibility of generation from ocean tides, geothermic and other alternative sources.
On Wednesday the legislative committee will hear a report on the experiences in Pinar del Rio and the Isla de la Juventud in the reestablishing of basic services and the recovery after being hit by Hurricanes Gustav and Ike. There will also be an evaluation on the environmental impact of the hurricanes that hit Cuba during the 2008 season.
(Adelante.cu)
---
Related News
---