Aryt and Fashion of Cuban painting dressed the body
Submitted by: admin

12 / 24 / 2008
---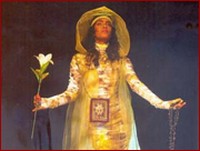 The exact idea of the mixture, seen in the Arte y Moda catalogue, with photos by Alex Castro, delighted the present spectators in the catwalks made in the patio of the Cuban Art Building of the National Fine Arts Museum.
Twenty models walked down the catwalk wrapped in a symphony of colours, gestures and music with dresses made by numerous artists who knew how to take to the body, with absolute precision, what the Cuban painters represented in their pieces.
From la Virgen del Rosario, made by the designer Ismael García, La niña de los globos by Yandi y Anayce, La Dama del lago by Rosa Díaz – all exact representations of the painting, full of evident contemporary nuances – to Colombina no.1 by Sandra de Huelbes, the show added a dynamic and imaginative irradiation to the dresses.
Meticulous details characterised the designs of Carmen Fiol in the Retrato de Rosario Armenteros, of Lucía Fernández in Dama sentada a orillas del mar and of Mario Freixas in Figura de dama, where they combined elegance ad virtuosity.
Other dresses that established innovating and stylised relationships, far beyond recreating the painting, and decorated the body with interpretative extrapolations were Diamante negro by the designer Ignacio Carmona, La promesa by Jacqueline Fumero, Dinamismo espacial by Alain Marzán and Frank Quevedo, Tabla de señales aéreas no. 25 by Yandi and Anayce, Goliat pierde otra vez by Ileana Jiménez and Abstracción by Roly Rius and Omar Alejandro.
At the same time the abundance of the fabric and the display of colours were combined in Marina, by José Luis González, Retrato de María Luisa Gómez by Guayza, Beatas by Otto Chaviano, Retrato de Flora no.23, by Pavel López and Guido Asenjo, Naturaleza muerta con piña by de María Salomé, Figuras Zoomorfas by Arteylla and Mujeres con peces by Oscar de la Portilla. The later impressed through a bright rational stile that synthesise the painting of the recently diseased Cundo Bermúdez.
The combination was truly excellent. Three centuries of Cuban painting – from the colony times until the 60´s of last century – took Arte y Moda to a higher dimension, in which the plastic showed the best of the current designs in a fantasy and original show of nowadays dresses.
(Cubarte)
---
Related News
---