Cubans art students to perform for the hurricane victims
Submitted by: admin

12 / 21 / 2008
---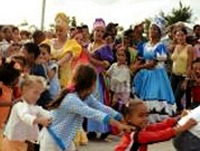 The students, belonging to the National Art School, the Circus School, the Guillermo Tomás music school, the Amadeo Roldán Conservatory and the San Alejandro Plastic Arts Academy, performed in poorly accessible communities of Bahía Honda, Viñales and Minas de Matahambre, in Pinar del Río, with an exceptional welcome by the people from the region.
Traditional Cuban music, popular and afro-Cuban dances, juggling and clowns and even a dance pair made up the group that performed in Bahía Honda, in the popular councils of Las Pozas, Los Núñez and El Morrillo, in this last one they performed in a workers social club, of which only the floor remained.
Despite the fact that the visits of the artistic delegations to the victims of the hurricanes, immediately after their passing through Cuban territory, are already common, this one turned out to be special for the welcome offered by the inhabitants and the moving performance of the young artists.
There is no doubt that the talent of the performers influenced much the reception of the proposal, but what really completed the artistic fact was the warm and spontaneous communication between the performers and their public.
Aymeé Arozena stood out among them all. A second year student of the Amadeo Roldán conservatoire, who dared perform a version of the famous song by Bola de Nieve, with such a voice and passion in her interpretation that foresee a successful career if she insists in cultivating her natural talent.
In preliminary accounts, spectators as well as artists win earnings, because one of them enjoy an exceptional program structured with much good taste and quality pieces and the other ones, apart from putting to taste what they learn in their respective manifestations, they receive a valuable contribution to their integral formation as people of good.
Students from art schools are also taking part in Victory Operation, which consists in the opening of nine permanent encampments, where participants will share the activities for New Year celebrations with settlers from nine affected territories all over the country. The first two ones are already functioning in Los Palacion and La Palma, in Pinar del Río.
(Cubarte)
---
Related News
---