Havana Museum of the Revolution Celebrates its 49th Anniversary
Submitted by: admin

12 / 13 / 2008
---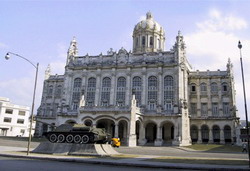 Visitors to the Museum of the Revolution, located in Old Havana, are welcomed by a bust of national hero José Martí, the Cuban Flag and bullet holes left in its walls by revolutionaries on March 13, 1957.
The museum features more than 30 rooms with some 9,000 objects from different stages of the struggle for independence. The significance and value of its exhibitions —as well as the constant cultural, historical and political work it carries out everyday —make it the most important museum of the country.
On December 12, the Museum of the Revolution will turn 49 years, almost as old as the Revolution itself. To celebrate this anniversary, its workers have prepared a wide program of activities.
The institution is currently going through a restoration process including improvement of the façade, change in the functions of the museum and its areas, fitting-out of exhibition rooms and implementation of new technologies.
Construction work is being carried out by the Complex of Historical-Military Museums and the Office of Havana City Historian. Nonetheless, specialists at the center are working on projects for the renovation of exhibition rooms, which cover all stages of the Cuban history.
"These renovation projects include the implementation of architectonic solutions for people with disabilities, the inauguration of a room for temporary exhibitions and another for cultural activities, the introduction of computers for visitors to look for information about the historical events shown in the museum, as well as the remodelling of the Northern Terrace," said José Andrés Pérez, general director of the museum.
Pérez also said that the museum will be opened during the restoration process, and he added that in 2008 the facility has received more than 300,000 visitors.
"Our main objective is to preserve the patrimony and legacy of the Cuban Revolution," he said.
"On December 12, we will begin the day with a reveille at ten ó clock in the morning, and a political-cultural act. During the rest of the day, there will be a guard of honor at the Eternal Flame to the Heroes of the New Homeland," Pérez announced.
Next year's activities include book presentations every month, an event with museum experts and a ceremony to recognize contributors to the museum. There will also be talks, lectures and temporary exhibitions.
Source: Juventud Rebelde
---
Related News
---