a Colmenita selected as the Latin American representative to the United Nation's IATA Standing Committee for Childhood
Submitted by: admin

12 / 12 / 2008
---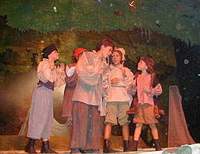 The news has spread like wildfire. Carlos Alberto Cremata, director of the Cuban children theatre company La Colmenita, has been selected as the Latin American representative to the United Nation's IATA Standing Committee for Childhood and Youth.
Delegates from Denmark, Canada, Germany, Austria, Croatia, Uganda (representing Africa) and Bangladesh (representing Asia) form the prestigious International Committee attached to UNESCO, which from now on will enjoy the presence of Cuba (representing Latin America and the Caribbean).
The committee, responsible for organizing the World Festivals of Children's Theatre and the World Congresses Drama in Education, decided to have a Latin American representative because "since the 2000 Japan World Festival, it has acknowledged and admired the work by La Colmenita and its philosophy of working with and for children."
"I am happy with this decision; not only for the impact it may have on me or my company, but also because it acknowledges the importance of the work Cuba in the world of theatre particularly, and in culture in general," Cremata told JR, a few hours before his company left for a tour of Spain and Portugal.
Source: Juventud Rebelde
---
Related News
---