Spanish Olympic Committee Head Pleased with Relations with Cuba
Submitted by: admin

12 / 10 / 2008
---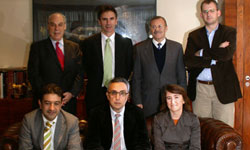 The head of the Spanish Olympic Committee, Alejandro Blanco Bravo, spoke positively about bilateral meetings between his country and Cuba that are aimed at increasing cooperation in the field of sports.
Blanco Bravo visited the Anti-doping Laboratory in Havana on Monday, and told the press that in his talks with Cuban authorities they shared several of his points of view.
The Spaniard official considers the improvement of sporting relations as being important for the advancement of both nations. Blanco, who has headed the Iberian Judo Federation for 13 years, said one of the points discussed was the exchange of coaches, which he hopes becomes a reality soon.
He also praised the Caribbean nation development in sports, which he sees as being among one of the best systems in the world, and specified that he was including both athletes and coaches as part of the athletic infrastructure.
His Cuban counterpart, Jose Ramon Fernandez, agreed about the need for technical collaboration in the disciplines of boxing, soccer, baseball and gymnastics. Fernandez underscored that in Cuba sports are a priority, and are seen as a way to promote health, recreation and a positive use of people leisure time.
In his visit to Cuba, Blanco Bravo also visited the International Physical Education and Sports School, the Latin American School of Medicine, and the Cerro Pelado High-Performance Athletes School.
(PL)
---
Related News
---