Dominican Rep-2008: Electricity Blackmail
Submitted by: admin

12 / 08 / 2008
---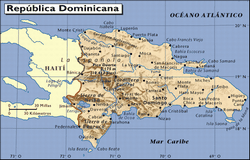 The situation erupted in October, when without warning the generating companies, managed by the private sector, mostly foreign, chose to stop the turbines and turn off the power.
The executives were categorical in a meeting with the authorities: or the government pays its debts or we interrupt the service.
Of course the terms of several meetings should have been others, but the essence is the same.
According to leaks known by the media, the Dominican government owes those companies over 400 million dollars for energy supplied, without immediate payment of at least half that sum twilight would continue.
The situation generated strong protests in the provinces more affected than the National District (capital) that left three dead, including an anti-riot policeman, an indefinite number of wounded and dozens of detainees.
The climax of the crisis came while President Leonel Fernandez was out of the country in a long tour that included the United States, Great Britain, France, Qatar and the United Arab Emirates.
The opposition, of course, made its day with denounciations on "the insensitivity of the president" with the ironic nickname as is characteristic of the Caribbean, "the National Palace Astronaut."
The problem, however, is more complex than a simple default in payments: the crisis showed that generating capacity is not enough to cover demand and that a closure of one generating plant dislocates the whole system.
Official media assured that, apart from the debt, the power companies do not comply with their commitment to invest in the increase of production, which they contracted when the industry was privatizad.
Popular unrest before a situation with no reasonable way out on the short term, got worse when service of the metropolitan train was announced to begin before the end of the year. Fernandez describes this as his summit work in his presidencial term. However, the most strategic point in political terms was official inaction before the crisis.
Not even Vicepresident Rafael Alburquerque, as interim president, nor the officials in charge were capable of negotiating a formula or have sufficient funds available to make the lights go on.
(PL)
---
Related News
---