One of Cuba´s best known folkloric ensembles, Yoruba Andabo in Concert
Submitted by: admin

12 / 05 / 2008
---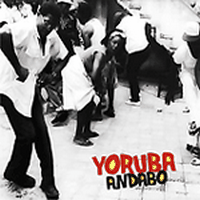 A band and a company of 17 talented singers, percussionists and dancers, Yoruba Andabo performs original sacred West African music preserved as it has been interpreted locally, after it had been brought here by slaves in the late 16 th century. The ensemble takes its name from two African words loosely translated as "the friends and followers of the Yoruba lands and culture."
Born out of spontaneous musical get-togethers held at the Havana harbor in 1961 by a group of dock workers, Yoruba Andabo - back then with another name - began performing in 1986 at the Havana seat of the National Association of Cuban Writers and Artists (UNEAC). Following its involvement in a recording for the local top label EGREM, the band worked in close contact with renowned singer Mercedita Valdés, which led it to turn into a company in 1994 under the name of Compañía Folklórica Yoruba Andabo.
Rumba is played and danced in Havana with unrivaled passion --a sign of the unbreakable spirit of the Cuban people.
On stage, Yoruba Andabo will perform various expressions of Rumba, including guaguancó, yambú and columbia, with pieces like ' La Brujería ´, 'Las mujeres si pueden´, 'Guantanamera´, 'Manos pa´ arriba a los que están´ and finally, the Havana conga.
The program also includes the cycles Abakuá and Yoruba, with 'Espíritu´ and 'Patakín de Obba´. This Yoruba goddess symbolizes repressed love and marital bliss, lacerated by Changó, her husband, who is involved in a love triangle with Ochún and Oyá.
The concert is sponsored by the Young Communist League (UJC), the Cuban Institute of Music and the Popular Music Center .
(Cubarte)
---
Related News
---