Trinidad: Cuban Museum City
Submitted by: admin

12 / 03 / 2008
---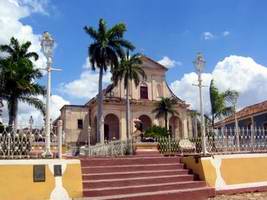 During the two decades after the declaration, local authorities and the people have confirmed their will to perpetuate the stone-paved streets, the colonial architecture and the urban cluster of the Historical Center, built in a perimeter of three square kilometers.  
In the middle of the high tourist season, the so-called Cuban Museum City stands at the feet of the Escambray mountain range to welcome visitors. The villagers' merriness and hospitality and the splendor of the ever green environment, harmonizes with high pillar buildings, roofs with grooved tiles and barred window frames.      
Commuters rush to work or school, while the restless hands of hats and wallets weavers join the joy of salesmen of typical local handicrafts.  Variety meant to please everyone and the array of colors and good taste draw the passerby's attention in this city of dreams.  
The "Plaza Mayor", the Palace Brunet, the museums of Archaeology and Ornamental Arts, the Church of San Francisco de Paula and the manorhouses of nobility characters from the XVIII and XIX centuries are temptations for those who long to go back to the dazzling past of the ancient village founded by the Spaniards. 1846 was the moment when Trinidad managed to rank among the four first producers of sugar in the country.  
Opulence led to cruel slavery and legends yet untold in the beautiful colonial Trinidad. The village speaks by itself of a time long-gone, which nonetheless left marks that tell of humankind heartbeats in the center of the Caribbean Island.
(RR)
---
Related News
---