Virtual Pilots to Fly at the Havana Computer Center
Submitted by: admin

12 / 02 / 2008
---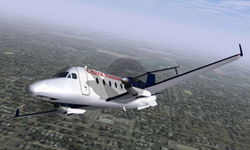 The crew is getting ready; they take to the runway and carryout the flight to their destination. However, they do not even use a real runway, or even a real airplane—they only use one of the computers of the 35-member Flight Simulation Group (SIMU-VAT).
Those fond of the aviation —the majority of whom linked in one way or another to that industry— will meet on Sunday at 10:00 a.m. at the Havana Central Computer Center. The institution is opening its doors to them to exhibit advances that have been achieved over the past four years since the birth of this initiative.
"The exhibition will be carried out with the virtual Antonio Maceo Santiago de Cuba Airport, because it is our way of paying homage to the uprising of November 30 and the landing of the Granma," said Miguel Ángel Armas Cardona, the president of the group.
"This Sunday we won't conduct complete flights, though we will perform them in real time, although our airplanes are virtual. We will only have the planes take off and fly around the runways, and later we will land them; then the public will be able to fly any of the Cubana Airline planes."
In fact, this airline has virtual pilots, and some models that have even been created by them, such as the IL-62, AN-24 and YAK-42, using the designs of the Microsoft Flight Simulator program.
This club was created on June 6, 2004. Later it began attracting more people until it grew to more than 30 members, who have contributed a greater level of realism to the flight simulation program through the incorporation of new scenarios, cockpits and airplanes with the Cubana logo.
"Since January of 2007 we have been a member of the Cuban Federation of Aviation Sports, and our hope is to create a club in each province, so as to inspire youth to consider this vocation as an exciting career," said Armas.
(Juventud Rebelde)
---
Related News
---