The Cuban flamenco singer and composer Andrés Correa in Spain
Submitted by: admin

11 / 18 / 2008
---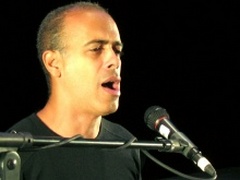 The Cuban artist, according to a press note published by the site www.flamencocubano.com has been invited by the Robert A. Paneque Foundation and during his stay he will hold contact with many flamenco singer and composers, dancer and musicians, as well as his his flamenco singing teachers Juan José Amador, Segundo Falcón Sánchez, Cristina Hoyos, Eva la Yerbabuena and Ricardo Pachón, who have taught several courses in Cuba sponsored by the Flamenco Andalusia Center and the Andalusia Agency for the Development of Flamenco, both of the from the Board of Andalusia.
The tour fits within the Cuban Flamenco Project frame from the Robert A. Paneque Foundation, whose aim is to fuse Cuban traditional music with Spanish Flamenco.
In this project there are many Cuban musicians working together sponsored by the Foundation, among them stand out the singer and composer Miguel Chávez, from Havana, as well as Vicente Aliaga who plays the tres, the classical guitar player Frank Remón and the percussionist Raimundo Fundicheli, as well as the Quinteto Viramas, all of them from Bayamo, a National Monument City and the capital of the Cuban province of Granma.
The aim of the Robert A. Paneque Foundation with the Cuban Flamenco Project is to promote the Spanish roots in Cuban culture and specially the flamenco, a genre with an incredible strength due to the solid base it achieved from the fusion process with the music from black Africa and the Arab World, from where it appeared throughout several centuries.
Cuba added to the flamenco rich Caribbean elements with the songs that would arrive in Cuba since the 15th century, brought by Spanish flamenco musicians and singers who lived in Cuba or visited the island, before they returned afterwards to Spain with much wealth.
  (Cubarte)
---
Related News
---