VI Event of Cuban playwright
Submitted by: admin

11 / 11 / 2008
---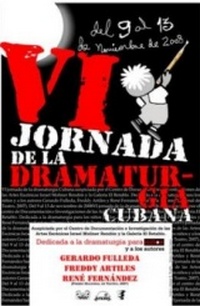 As in previous editions, the aim of this event is to stimulate, promote and spread Cuban playwriting from all times, with text readings, play presentations, tributes, theoretical events, exhibitions and competitions. Among the main venues are: the Estorino Room, from the CDIAE, the Sauto Theater and the El Mirón Cubano and Papalote Rooms, as well as the Las Galerías La Vitrina and El Retablo.
Created in the year 2003, the event has brought together more than a hundred Cuban play writers in the city of Matanzas, during the month in which we pay tribute to the author of El Conde Alarcos: José Jacinto Milanés.
In this edition we will have the presence of about twenty Cuban play writers from different generations, seven guest groups who will present their work in the Sauto Theater, Sala Mirón Cubano and Papalote (Nueva Línea and La Colmenita, from the City of Havana; Teatro Así, from Cienfuegos and Las Estaciones and Papalote Theater, from Matanzas).
There will also be read six unpublished or never premiered pieces by René Fernández Santana, Freddy Artiles, Norge Espinosa, Maikel Chávez, Kiko Figueredo, Ricardo Nogueiras and Maikel Rodríguez, in which Así Theater, Las Estaciones Theater, La Salamandra, Icarón Theater, El Mirón Cubano Theater and Teatro del Polvo will take part.
Among the activities of the VI Event of Cuban Playwright there will be a master conference by Doctor in Art Freddy Artiles, a panel on contemporary play writing for children with the intervention of Yamina Gibert, Dianelis Diéguez La O, Norge Espinosa, Freddy Artiles, Gerardo Fulleda León, Yudd Favier, Ulises Rodríguez Febles and Rubén Darío Salazar.
There will also be presented books by Ediciones Alarcos, Matanzas and Vigía'; exhibitions will be inaugurated, dedicated to some of the guests of honor and the competitions Titiritextos (11 pieces presented) and El Anaquel (6 texts presented) will be awarded, on the evening of November 13, in a special closing concert by the puppet actor and singer Freddy Maragotto in the Papalote Room. Other editions of the Cuban Playwright Event have been dedicated to José Jacinto Milanés, José María Heredia, Alberto Pedro, Abraham Rodríguez, Albio Paz, Virgilio Piñera, Dora Alonso, José Ramón Brene.
(Cubarte)
---
Related News
---