The Russian International News Agency RIA Novosti opened its delegation in Cuba
Submitted by: admin

11 / 10 / 2008
---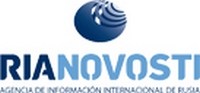 "Today we are opening in Cuba and tomorrow we plan to have a greater and more influential information presence in South American countries", stated the general Director of RIA Novosti, Svetlana Mironyuk in a ceremony chaired by the Russian Minister of Communications and Information technology, Ígor Schégolev and by its Cuban colleague, Ramiro Valdés.
"We clearly understand that this region is one of the priorities of the information work", indicated Mironyuk in front of diplomats, Cuban officials and foreign press media in Cuba.
Mironyuk announced that in the short run the RIA Novosti delegation in Havana will have a modern press centre, technologically integrated to the five press centres that are currently operating in a continuously way in the head offices in Moscow.
"With the help of the communication Technologies and of advance multimedia, the Havana press centre will be linked with Moscow", indicated the head of RIA Novosti.
RIA Novosti plans to carry out in direct link between Havana and Moscow, real time press conferences, interviews, round tables, debates, news and reports for radio, TV and Internet.
"The only disadvantage can be the time differences, since Havana is getting up when Moscow is going to sleep", declared Mironyuk.
She declared that RIA Novosti in Cuba will be a key contributor to the information flow to be published by the RIA Novosti Spanish web page, which has been operating for three years already, read, mostly by Latin American readers.
"Next year the school will open course for foreign journalists", said Mironyuk.
In the opening ceremony of the RIA Novosti delegation in Havana, the Russian agency presented to the Cuban public the exhibition "Rusia-Cuba: La Amistad en Fotografías" (Russia – Cuba: Friendship in Pictures), a unique collection of graphic material that illustrate the Russian – Cuban relationships in the last decades.
Once the exhibition is over, the photo collections will be donated to the Cuban Institute of Friendship with Peoples, chaired over by Jorge Marti Martinez, a former Cuban ambassador in Russia.
 (Cubarte)
---
Related News
---