A lionfish is on display at the Tomas Romay Museum of Natural Sciences in Habana
Submitted by: admin

11 / 06 / 2008
---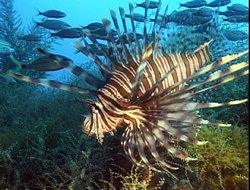 The 6-inch-long fish is living in a salt-water tank after being captured by a local fisherman at Siboney Beach, near this city, in October.
Specimens of Pterois volitans have been spotted in Cuban waters over the past few years, and the scientific community is studying the causes of their increasing presence, as they are native to the Indian Ocean.
Considered an exotic fish and an intruder in the Caribbean region, lionfish specimens can also be seen at Havana's National Aquarium, whose experts are studying their rare behavior, as they are moving away from their usual habitat.
The thorny lionfish is red, white and brown, and has fan-like fins and small tentacles. Although it is not welcome, it has raised people and scientists' interest in this part of the world.
For the time being, it has become the latest attraction at the Tomas Romay Museum of Natural Sciences, the first such institution outside the Cuban capital, clouding the popularity of the skeleton of a female sperm whale, which was found dead near Santiago de Cuba.
(PL)
---
Related News
---