Refurbished City Hotel Favors Cultural Tourism in Eastern Cuba
Submitted by: admin

11 / 04 / 2008
---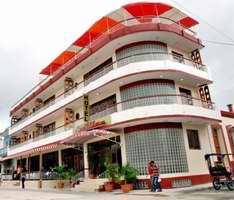 The hotel is expected to boost cultural tourism, which has been given top priority in the Cuban national tourism at present.
The reconstruction of the picturesque three story hotel built over half a century ago, is part of an ongoing project for the rehabilitation of the city's historical section, reported Granma newspaper.
The Cadillac is built in the shape of a big ship (the style of certain vessels after World War II) anchored by a new boulevard, with easy access to the city's historical, cultural and commercial centers such as the Jose Marti Plaza (with its sun clock and sea calendar), the Tunas Theater, the Provincial Museum and the Major Gen. Vicente Garcia Gonzalez Memorial, a living memory of the leader who ordered the burning of the city on September 26, 1876 before turning it over to the Spanish enemy.
Manuel Marrero Curz, Cuba's Tourism Minister noted the importance of recovering historic buildings mentioning the hotel in particular, with cultural tourism growing in the area, specially in the European market.
The reopening of the Cadillac Hotel (eight comfortable rooms, two junior suites, a night club, bar-cafeteria, and terrace-viewpoint) is part of works that also allowed the reopening of other 90 rooms in the Covarrubias tourism area on the north side of the province, which had been closed since September as they were severely damaged by hurricane Ike.
(ACN)
---
Related News
---