Havana's Malecón: A Meeting Place in the Cuban Capital
Submitted by: admin

11 / 03 / 2008
---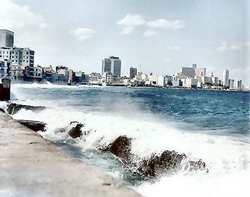 That is precisely the case of the Malecón (Seafront), where waves break along the wall of the street, one of the main arteries of the City of Havana and a point of reference for everyone who bets on the island as a destination for leisure and recreation.
The Malecón runs for about five kilometers, from the entrance of the Bay of Havana - in the east - to the west, with a capricious design parallel to the irregular coastline, which is bathed by the warm waters surrounding the island.
In addition to its beauty and centennial history, Havana's Malecón is a major element in the city's road order, since its six lanes (three in each direction) allow for a fluid circulation of vehicles.
Contrary to winter seasons in Cuba, when the sea jumps over the wall, a true avalanche of people invades the Malecón in Carnival times, expressing their happiness and enjoyment, so typical of people who love their culture.
For many, the place is considered the true pulse of the city, a loyal reflection of its inhabitants' life, loves, games, sadness and meetings, all these in a strip that is just a few kilometers long.
During the early years of the 20th century, the Malecón was an area of public baths, where the city's dwellers enjoyed the warm seawaters, keeping the strict reserve between men and women dictated by the customs of the epoch.
Its peculiar design also served the purposes of the most diverse events, including car races - one of which concluded with several deaths -, the shooting of films, parades and concerts.
Along the Malecón, people can enjoy the sight of buildings and statues that have become landmarks in the island's traditions, such as the Riviera Hotel and the monumental Nacional Hotel, or a place dedicated to the memory of Calixto García, an outstanding figure during Cuba's war for independence in the 19th century.
Visitors can also enjoy a bronze statue of Antonio Maceo, located in a park named after this brave patriot, who seems to dictate, from his predominant position, the strategy to follow to counter the effects of the waves that jump over the "Malecón wall" in winter.
For both visitors and locals, the Malecón wall is also a favorite place to escape from the night heat that characterizes summers in the largest Antillean island, where thousands of people go to enjoy the sea breeze or just spend a pleasant time outdoors.
Many families go to the Malecón to look at the blue waters and the many ships crossing over the horizon or entering the Port of Havana, with no other purpose than letting time pass in the company of the charms of the famous road.
(DTCuba)
---
Related News
---