Cuba Improves Preschool Education
Submitted by: admin

10 / 31 / 2008
---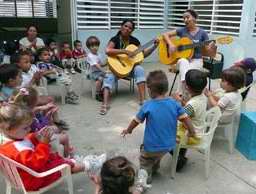 Authorities from the Ministry of Education confirmed the need to improve the quality of that community teaching project, in which the family is a key element.
They noted the need to improve the contents taught to children and their relatives, who attend the meetings, as well as providing upgrading courses to community facilitators.
That vital educational process is based on the work of families, especially the parents and those who provide pedagogical care to the children with support from agencies and organizations at the community level.
The program was evaluated recently to improve it, as it trains thousands of children who do not receive education at daycare centers before going to school.
According to experts, these educational actions within the family begin during pregnancy and allow improving the children's psychological and pedagogical development.
The goal is to educate children through non-formal means in their places of residence (either rural or urban), thus contributing to their education and development.
Teachers, psychologists, pediatricians, and experts in human growth and development, sports, recreation and culture, among others, designed the program, which is part of the community educational project "Para la Vida" (For Life), aimed at enhancing the Cuban people's information and preparation to improve their quality of life.
(ACN)
---
Related News
---