Gala Highlights Anniversary Foundation of Noted Institution in Eastern Cuba
Submitted by: admin

10 / 30 / 2008
---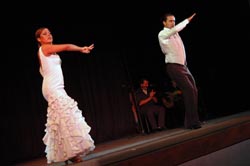 The Orilla a Orilla flamenco dance company, coming from Badalona, Spain, local singers Lucrecia Marin and Aurora Delgado, actress Norma Arencibia, minstrel Fernando Cabrejas, Eliecer Travieso and his String orchestra, the dance companies D´Akokan (folk), Codanza (modern) and the Vocal en Serio septet gave a very special touch to the gala directed by Isabel Garcia.
With the attendance of the first secretary of the Communist Party of Cuba (PCC) in Holguin province, Miguel Diaz -Canel Bermudez, visitors and people in general, the head of the Iberoamerica House, Tatiana Zuniga, welcomed the artists, writers and lecturers coming from eight countries.
Zuniga said that during their stay in Holguin the participants in the celebration will be sharing and exchanging experiences with the people living in the communities and municipalities largely pattered by hurricane Ike, what turns them into the first artistic solidarity brigade arriving in Cuba, after it had been hit by the devastating cyclone.
In her words, the Institution´s director evoked PhD Jose Manuel Guarch Delmonte who was the first director of the Iberoamerica House and also founder of the Iberian-American Culture Fiesta held here every October in honor of the encounter of the Cuban aboriginal and Hispanic cultures.
This anniversary celebration is a deserved tribute to Guarch, Zuniga explained, and added that the House opened the ´Momentos de mi vida´ exhibition, which recalls the momentous events of the scientist´s life and work.
Widow Caridad Rodriguez, her children Elena and Juan Jose, and several grandsons of this man that ennobled science and Cuban culture attended the exhibition´s opening.
A photo from the 70´s of the scientist standing next to Commander in Chief Fidel Castro and the then Cuban president, Osvaldo Dorticos, is among the pieces shown at the House.
But also the recognitions and awards Guarch Delmonte received as the Holguin Axe, the province symbol and top award, the La Periquera Doorknocker, among others.
The triumph of the Cuban Revolution in 1959, the birth of his three children, the defense of his PhD degree, and the finding of the archaeological site, world known as the Chorro de Maita museum, are among the most remarkable events of the man who got the PhD on Philosophy and Historical Sciences at the Academy of Sciences of the Soviet Union.
(www.radioangulo.cu)
---
Related News
---