The 9th International Jazz Contest 2008
Submitted by: admin

10 / 28 / 2008
---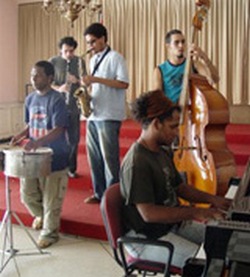 Lucía Maza, an expert with the Centro Nacional de Música Popular (National Center for Popular Music), told AIN news agency that the program of this year's event will be expanded to include small-format presentations by jazz bands, thus providing an opportunity for participants in the musical interpretation contest. She explained that until now, the event was very much focused on composition.
She added that there are plans to record demos of as many competing works as possible for reference, as a way to facilitate the jury's work.
Regarding the composition contest, those interested can submit up to two original, unpublished works that have neither won any awards nor have been previously played in public.
The Colibrí Record Company will record a new CD with the prizewinning works and all those it deems interesting. The new CD will be added to the company's collection, entitled ´Joven Espíritu del Jazz Cubano' that groups winners and participants in previous events.
The contest is open to artists between the ages of 16 and 30. The jury will grant three prizes and as many honorable mention commendations it deems appropriate.
The contest, called Jojazz 2008, will take place November 27th through the 30th at the Havana-based Amadeo Roldán Auditorium. This year's event will be dedicated to Cuban musician Bobby Carcassés, an active promoter of the Jazz Plaza Festival.
(Cubarte)
---
Related News
---