Cuba to Launch New Cigar Vitolas
Submitted by: admin

10 / 26 / 2008
---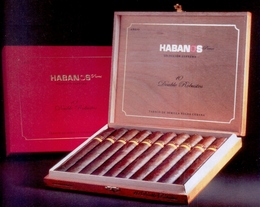 Belinda, a brand from the late 19th century (1882), is commercialized as Belinda Coronas, and its vitola Cristales will come in 20-cigar boxes and three-cigar cases.
For its part, Troya was created in 1932 and is commercialized as Coronas Club and Universales in 20-cigar boxes and three-cigar cases. In both cases, each cigar weighs more than three grams.
The brand Guantanamera, whose cigars weigh more than three grams, will also be present at FIHAV 2008.
ICT is a Cuban joint venture that produces and commercializes 100-percent natural, machine-made cigars.
The company produces more than ten brands and 44 small-format cigars of the brands Cohiba, Montecristo, Romeo y Julieta, Partagas, La Gloria Cubana, H.Upmann, San Luis Rey and Quintero.
ICT can produce more than 140 million cigars a year, and has reported sales of 125 million cigars and revenues of 20 million dollars.
ICT products are exported to Spain, France, Germany, Great Britain, Switzerland, Greece, Canada, Argentina, Venezuela, Mexico, Colombia and Chile, as well as African, Asian and Middle Eastern countries.  
(CMHW.cu)
---
Related News
---